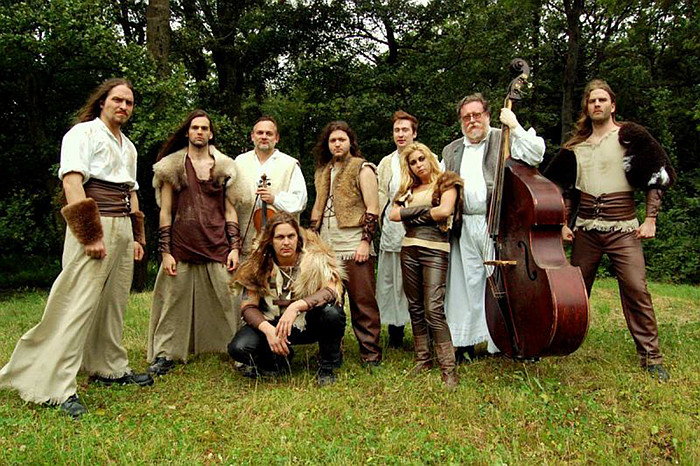 Please tell us a little bit more about yourselves. How did it all start, why folk-metal and why did you choose to sing in your native language?
Andris founded his first band back in 1998, playing classic heavy metal. 2001 Laura and Tadeusz joined and at that time Andris started to concentrate more on Hungary's legends, culture and history in regard of the lyrics. At the time we recorded our first demo already under the name Dalriada the heavy metal roots where still there but with an experimental touch of Hungarian folklore. Since we write songs that are in close relationship with Hungary's culture it seemed obvious to keep up singing in Hungarian since this is the only way to keep this kind of music original.
When I first heard of you, you were named Echo of Dalriada, but later you shortened it to Dalriada. Why did you decide to lose your Echo?
To avoid confusion - Echo of…. was a quite long name and difficult to remember, even nowadays many people are unable to pronounce only Dalriada.
You sing in Hungarian, so I think I'm not alone while I'm asking you this: What do you sing about, mostly?
Hungarian history, wars, battles, ancient legends, myths from Hungarian folklore and of course we wrote a whole album with ballads from one of the greatest Hungarian poets – János Arany – as lyrics.
You've just released your seventh album, Napisten Hava. How's it doing so far, is it being well received by the fans and press?
Yes, we can't complain, all things considered both fans and press seem to be satisfied!
This time you've included a lot more folk instruments than on your previous records. Will this change be a permanent one or is it a one-time thing?
We will keep up working together with folk musicians, of course, but if this density of traditional melodies and references will remain…time will tell. And the concept of our next album .
You've reached amazing marks in the Hungarian album charts with your previous records, with Kikelet reaching a #4 position back in 2007, Szelek getting to #2 in the following year, then Arany-album to #4 in 2009 and finally Ígéret reaching #6 in 2011. Does this mean that the hungarian population love metal (or folk-metal) or are you an isolated case?
There are great numbers of metalheads all over this country, thats for sure. We are not the only band reaching similar positions in the charts but it is not that common. This time we reached #3 in the first week.
The new album was once again released by Hammer Music / Nail Records after last year's Ígéret, which was released by AFM. Why did you return?
AFM and the band had different goals and on the other hand, Hammer Music / Nail records was always there for us.
The hungarian top chart is not new to you but still you have put a lot of effort on this new album and on the video-clip for "A dudás". Are you planning on expanding and having your album available in more countries?
That is one of our biggest goals, yes. It will be released in several other countries, especially in Europe.
You've just been on tour through europe with Arkona and Darkest Era and played in some countries for the first time. How did it go?
It was an amazing adventure and opportunity. Hard too but totally worth it. I think we made lots of new friends!
You had some problems with the stage monitors in your show in Portugal, what happened back then?
I think we had some minor misunderstandings with the technicians and not really enough time to check all the others' needs regarding the monitors on stage.
On this tour you're playing with a new singer, since Anita Kun is replacing Laura Binder, due to her pregnancy. How did fans react to that change? Has this change made any impact on your shows?
Anita did a great job in substituting Laura. Some lads where of course asking regarding Laura's whereabouts but in the end nobody seemed to be disappointed because of this essential but only temporal change.
So, the tour with Arkona is now over and I'm guessing your lead singer will still be unavailable for a few months, but you have a brand new album to promote. What are your plans for the times to come?
We have a couple of gigs in Hungary in November and December, although we can't tell anything specific about our female singer issue yet.
Thank you so much for arranging the time to answer our questions. Do you have any final words to all Dalriada fans out there?
It was great to see you people all over Europe, hope to meet you again soon and of course our brothers and sisters in overseas as well!