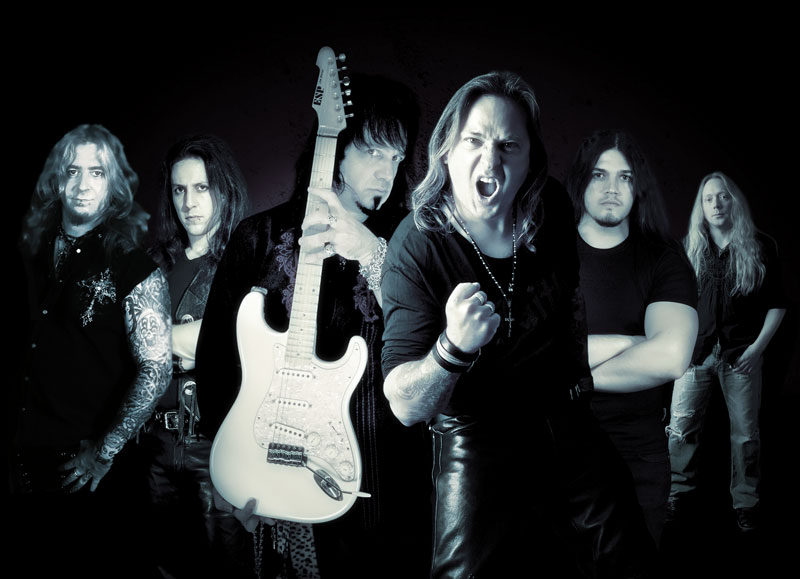 Hi there, and thank you for your time! Can you give us a short insight on what's Raven Lord all about and your history so far?
After I left Killing Machine in 2011 it was time to continue with something new. I found RAVEN LORD in March 2011 and was looking for the right players to join the band. Some of the members would only be participating for some time and therefore left. JAMIE MALLENDER is playing bass guitar and was with RAVEN LORD from the beginning. GEORGE KARAFOTIS playing rhythm guitars came last Summer to the band. ALESSANDRO DUO playing the keyboards also joined last year. RICH SMITH has just recently joined the band and plays the drums. And the mighty "Shredlord" JOE STUMP has been with us since around August last year. My idea was to make heavy metal album that fits my over all vocal style. I did not want to reinvent the wheel. Rather make something that comes natural and fun.
I'd like to congratulate you for your debut album, "Descent To The Underworld". How do you feel about it, now that it's done and getting some great reviews?
Thank you the album turned out really good. I feel great having achieved such a wonderful release. Never have I imagined this much momentum and interest for RAVEN LORD. It really has been an overnight success
We don't get to listen to a new heavy metal album that often, nowadays, since every new metal band seems to be more interested in playing melodic death, folk or groove metal... So, what drives you to play this classic heavy metal sound?
I have been playing this type of music all my live. All though in the past I was experimenting with different styles of music. Still I wanted to come back to my roots and show my passion to this genre. When I was touring in 2010 I realized that many bands that I liked were doing the same music for the last decades. And it was to be OK. So without any fuss I wanted to deliver just that with a fresh and modern approach. With the feel of the past and with modern production technique giving a modern edge recordings.
One thing I found odd was the fact that all musicians were playing and recording their parts in different locations. Why was that?
I purposely hand picked players form all over the world. The good players just don't live around the corner sort of speak. You have to find them on this globe and unify them in RAVEN LORD. Which now has become an international metal act. So when we started recording we had to use the tools that were available to us and combine them. It actually worked out pretty well.
The band's lineup has suffered some changes after the album's recording. What happened?
Well, I wouldn't say suffered when in fact it has evolved in something better. We had some problems with Stefan who is obviously no team player. This all happened last August and we've put it behind us once and for all. RAVEN LORD has a great future and that's where we are heading now.
Will we have the chance to see you guys on the road, in the near future? Do you have any shows or touring plans?
Absolutely, and this is the core idea for RAVEN LORD. The album is doing great but it should act as vehicle to play shows. We're planning on playing festivals in the summer and going on a EU/UK tour starting around October. Our very first festival kicks off at the R-MINE METALFEST 2013. We're going to be playing main stage Saturday 22. June 2013. It's going to be a so much fun.
Also, do you have plans for a new album in the near future?
Sure, we're already working on some new tracks that should be released beginning of 2014. However we will have some surprises planned before that and this is for our fans so they don't have to wait that long.
Thank you so much again, do you have any final words you'd like to share?
Thank you so much for this interview and the interest in RAVEN LORD. We hope to see, meet and greet you all on a show very soon. Thanks
As promised, a final surprise:
Raven Lord
are currently celebrating their 2nd anniversary, and as a present to all fans and supporters they've released a new song,
Perish
, their first metal ballad, and made it available for free. Click on the following banner to listen to it.