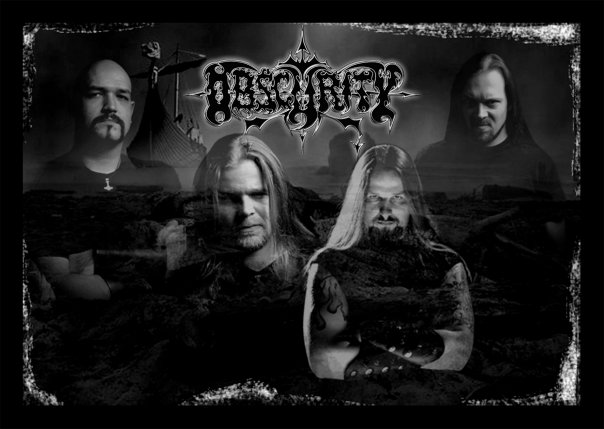 You were formed in 1997 and your discography presents 2 demos and 6 studio albums, so you've been around for quite a while! How would you describe your career, so far?
Well, it's been quite a ride so far. In the early years we had to define ourselves as a band and music and to improve our skills in playing our instruments. That may sound uncommon but you must know that I for example started playing bass in 1996 when we came together as a group of metal fans who wanted to play thir beloved metal music. My band mates already had some experience but were far away from being experts, hehe. So it took some years until we really knew what we were doing. If you listen to our records you can hear the shifting between a more Death Metal (first album Bergisch Land) and Black Metal (the two demos and second album Thurisaz) influenced music style. With the third album Schlachten & Legenden we found our destiny in music and lyrics. We treaded that path with the following albums Várar, Tenkterra and now Obscurity and strengthen, as well, as develop our music and lyrics on that way. Stagnancy can mean death to one so we always have a process of evolution in our music without losing track of our very own style. Meaning, you won't get a metal core album from Obscurity anytime soon, hehe. In terms of playing live-shows and recognition by magazines and the Metalheads it's also a process. Our fan base and live-activity increased from year to year and from album to album. This allowed us to grow on par with the recognition. We never had that big blast which often gives one the attention of a whole business. We always worked hard and took one step after another to get there were we are now.
Your latest album, Obscurity, seems to be getting a lot of great reviews, out there. How do you feel about the album?
Yes, we already got some outstanding reviews. That is quite a comfortable situation but the Várar and Tenkterra albums do not stand in the shadows of the current Obscurity album. Furthermore we don't take any reviews so serious that we would, let's say, rearrange our music or the band. That's valid for excellent and possible destroying reviews, hehe. We just do the music we love to play and we personally would like to listen to, as well. That's our way. Good reviews are always welcome and make us proud of course. It's always a pleasure to know people appreciate our music. That's the best pay check we could imagine to have people enjoying us on stage and our music. Reviews just don't have any influence on us or our music because we do the music we love. If the critics like what they are listening to, fantastic! If not, that's ok with us, as well. The tastes are always different. You don't have the chance to satisfy everyone on this planet. The most important factor is that you love what you do, that you remain true to yourself and your own expectations.
Usually a self-titled album has a special meaning for a band, why did you choose to do it now?
Because we celebrated our 15th band anniversary and the album is kind of an anniversary issue. We chose topics for album titles which are very important to us and reflect the music and lyrics/tales on the album. This time we thought the band itself should be in the focus. But trust me when I tell you, we have more topics on the Obscurity album than just band stuff, hehe.
The album cover presents us again an heraldic lion. This lion must surely mean something to you, can you please tell us more about its meaning?
Indeed, the lion "Bergischer Löwe" is an ancient heraldic sign of our home region. We used it largely on our first album Bergisch Land for the first time, as the album title and cover should represent our home region. Since the year 2000 we developed the lion as some kind of trademark, as it's meaning to us is also a recurrent topic in our lyrics. Since then it became more and more prominent. Our second album Thurisaz is the only exception or case in which we didn't show the lion on the cover, but you can find it somewhere else on the album.
This is your 4th album in a row with german lyrics in all songs. What do you write about, the most?
Ah, that is not correct, my friend. We had English lyrics on the Várar album and on Obscurity we have a couple of lines in English. But that quite seldom and so you are right again, hehe. We have German lyrics because it is a complex language. In my opinion you can express feelings and situations more precisely than in English. It offers the advantage to create a very dense and captivating atmosphere which we use to tell our stories and tales. Furthermore it's more challenging to write German Lyrics, as it is harder than with English. Our lyrics often have a real historic background which we put into the garment of a tale. Those tales are often related to our home region or the ancient german/celtic roots. We have also general topics which you can find in almost all Heavy Metal genres. We always try to create real stories or tales which may entertain you rather than put only some catchy phrases together. But there's always an exception, with Battle Metal a song on the Várar album we have a real English phrasemonger song. A tribute to all the metal hero bands we love to listen to, since over twenty years now.
What are your plans for 2013? Will you be playing some shows or festivals to promote your latest album?
We carefully pick out some shows from the flood of show offers we got so far. We'll play shows only if we think we'll have a situation where we can provide the best we got to entertain our fans. We worked hard to forge the current album and so it's now the time to reap the fruits we sow. Furthermore we have members with children and families. Family is very important to each member of Obscurity and so we arrange live activity on that basis. We have already some very nice festivals and headliner-shows to offer this year. Just check out our homepage or facebook to learn more.
Although you've been one of the first German pagan/viking metal bands, somehow you've always remained in obscurity, if you'll allow me the word play, and never made through to reach a wider audience. How have you been coping with that, all over these years?
Well, that's is a very complex topic we cannot fully clarify in this interview as the space is just too limited, hehe. If you take only Obscurity as band, we can say that we are fully satisfied with the current and past situation. We always had our normal jobs (we are a lucky bunch of guys who got jobs we really like to work in), families and something called private life. Things we never intended to give up to become full-time professional musicians. Obscurity was always meant to be our hobby. Our rehearsal room is a place to have fun and enjoy the process to contribute our very own piece of music to the overall Metal scene we love so much. In the beginning we covered our favorite songs from our metal heroes and nowadays we create our own piece of Heavy Metal. Of course we want to spread it over the Metal scene just to have the opportunity to have fun on stage and to learn more of the metal world. Especially on our European tour in October/November 2012 with Kampfar, Helrunar and Velnias we were able to attest that Obscurity can captivate metalheads in many non-german speaking countries and give the audience a real blast of an evening to remember. With the album Várar we are a semi-professional band, which means that the band doesn't cost us a single Euro anymore. That's the point where we wannabe be. I'm talking about the very comfortable situation of having a self-financing band which gives us the opportunity to do whatever we want with our musically ambitions. On the other hand we have enough time for "private life". We have the full control and can go from there without any restrictions or pressure by any big label or management. A situation where you don't have to play for your life but you have the fun of your life without any really bothering pressure. That's worth it! If we regard the general situation of our genre, especially the German scene, I cannot tell you a single band which really can make up living from the music. A normal job is normality and those who make up their living in the music business, work as stage hands, in the management or booking agencies for other bands and so on. The vast majority of bands even the well-known bands do not earn enough money with their music to lay back. There are only very very few bands which earn enough money and most of them only until a certain point in their career and then they have to find a normal job again. I`m not speaking of bands like Iron Maiden, AC DC, Metallica and so on but I think you all know bands which do not play in the Heavy Metal Champions League which are nevertheless well- known and a lot on tour. I don't want to go any deeper into that topic because it really can destroy your way of looking at the music business. I just want to assure you that Obscurity is doing well, getting better and better and that we are at the very place we want be.
I really think that by now, you'd deserve a lot more recognition for your work, and I honestly hope this new album will help you achieve it. Do you have any final message for our readers?
Hehe, thank you my friend. As I already mentioned it's always the best pay check to see people enjoy your music. It's an honor to have this interview and I hope you enjoy it as much as I did. There's still some spare room for some more but we will grow into it. Step by step and wherever, whenever Obscurity wants to. We are a bunch of metalheads who love to play metal and explore the metal scene wherever it may be possible. Let's see what the future may have to offer. Well, I hope you guys didn't already fell asleep so far. My final message for the readers is, stay true to yourself, enjoy metal wherever and whenever possible. Maybe you'll turn on one of our albums and enjoy what you will listen to. Furthermore keep the community flame burning we're not just English, German, Spanish, French and so on? we are the real multi-national Union the rest of the world will never manage to accomplish. Metal on! Ziu.