Há alguns meses atrás tivemos a oportunidade de trocar impressões com
Csaba Zvekan
acerca do álbum de estreia dos seus
Raven Lord
. Desta feita, voltámos ao contacto para falar sobre o seu novo projecto
Exorcism
. Descrito como tendo uma sonoridade Heavy Doom Metal, assinaram recentemente um contrato de distribuição mundial do seu álbum de estreia, que será lançado na primavera de 2014.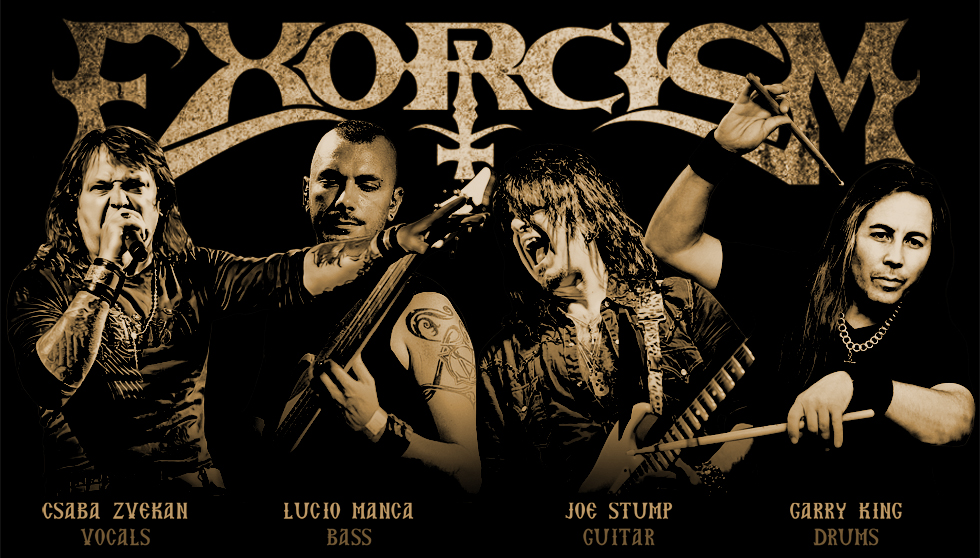 So, half an year ago we were interviewing you about Raven Lord's debut album, and all of a sudden here you are again, with your new band Exorcism. What can you tells us about this project?
Hi "show me your metal" readers and thank you for the interest in EXORCISM. I should start from the beginning. EXORCISM's doom metal music has been around since 2006/2007 when it all begin with a beautifully GIBSON BLACK BEAUTY guitar. I started playing and writing great material that could fit my voice and style. From little snippets became real songs but then was put on the big pile of demo songs. When I started working with AXEL WIESENAUER from ROCK'N GROWL management he then discovered the songs and found a label that would release it. The music is different from RAVEN LORD in genre so we started a new product instead.
We haven't heard anything from Exorcism yet, but you're describing it as a Heavy Doom Metal Band, so I'm guessing it will sound a lot darker than your more classical approach to Heavy Metal with Raven Lord. And still, you managed to bring along on this new adventure your guitarist Joe Stump, also a (neo)classic heavy-metal guy. How hard was it to convince him to "join the dark side"?
When I spoke to JOE STUMP for the first time about the project I wasn't sure if he would be up for a predominately mid paced tempo album. He then explained to me that shredding is also very well possible on a more bluesy foundation. And as far as dark side goes hahahahahahah. Not sure if I had to truly convince him as he already "joined the dark side" many years back hahahahaha.
Your debut album will be released worldwide in the spring of 2014 by ZYX Records / Golden Core Music. Can you tell us some detail about it?
Our manager AXEL WIESENAUER is a great business man. He finds the right home for almost every great product. And so it was with Golden Core Records who are obviously friends with Axel found great interest in the EXORCISM material. Pretty soon we a had working contract on the table and could start working on our debut album. GOLDEN CORE RECORDS is associated sub label for the much bigger German giant ZYX MUSIC. It's a pleasure and an honour to be in their roster with this new product EXORCISM.
Will you release any promotional song or snippet before the album's release? (If so, when?)
Yes, there will be all kinds of goodies that we're planning to do before the release. We just started out with the video blogs and behind the scenes to show what we're working on. Also there should be some video once the material has been recorded mixed and mastered.
Are there any tour plans for promoting the album? Any chance of seeing you play here in Portugal, since you've been recording the album so close to us, right next to us in Spain?
Yes, Spain and Portugal will be on EXORCISM's dates for sure. The dates are not set as of yet and it would be premature to say. For sure we aim the Summer Festivals all over Europe 2014 followed by EU promo tour.
I'm looking forward to hearing how Exorcism's debut album will sound like, thank you so much for taking the time to answer our questions. Any final words you'd like to share with everyone out there?
I thank you for your great support and the interests in EXORCISM also would thank to the readers and fans that we already have all over the World in this short time. Please sign up for our Facebook page at http://www.facebook.com/EXORCISMband to stay in touch with our activities. Many thanks and I see you all out there. Stay Metal \m/