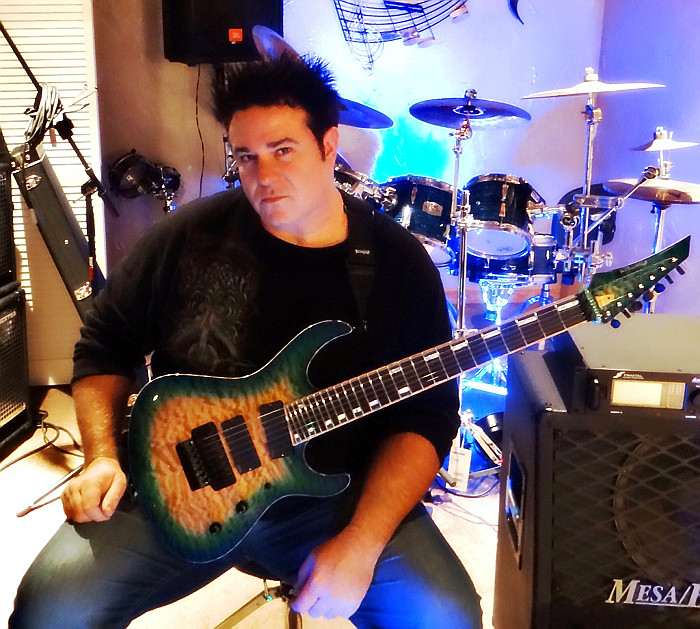 First of all, let me tell you that it's a great privilege to do this interview with you. You're an amazing guitar player with a lot of skill and good taste in music. I read some cool stuff about your career, but please tell me: what got you interested in playing guitar, in the first place?
The pleasure is all mine. Thanks so much. I actually started playing the drums. I kinda did the Eddie Van Halen thing, and switched to guitar. It seemed to work out ok for him, right? Haha. I think what got me interested the most, was watching all of the great "guitar gods" coming into my home via MTV, back in the day. Guys like Lynch and Vai and Vandenberg, also Brad Gillis, when he played with Ozzy. Those guys just exuded attitude and "larger than life" personalities. So, that was what attracted me to the guitar.
What are your main musical references? What inspires you to make music everyday?
I love to listen to music. I'm always blasting something in my car. Hearing these great musicians putting out impeccable pieces of music inspires me. I listen to a lot of melodic metal and rock, progressive stuff, too. It challenges the mind and definitely inspires me to be a better player.
Is there a main gear you're particularly fond of, or that has helped you forming the sound you play today?
Well, just for vain reasons, I'll say the McNaught XD727 Xander Demos Signature Guitar! I was so honored when Dave McNaught approached me about making a signature guitar model. It's a dream come true, really.
Can you tell us a little bit more about your gear, both live and in studio?
Sure. I have a lot of great companies that I work with, that have helped get me the sound and style that I'm looking for. Functionality and easy transport are paramount these days. I'm getting too old to be lugging around these massive rigs anymore. Haha. I use the Fractal Axe FX2 through Matrix Amps. I have some great Mission pedals that help shape the sound. INTEX cables are the caddillac of cables! Those things are extremely durable and help make me sound great. Dixon cases have protected my Suhr and McNaught guitars, extremely well. EMG pickups and Floyd Rose upgrades have all played a part in the Xander Demos sound. I also wear Rock N Roll Gangstar gear live on stage. Hope I didn't miss anyone!
Last year you released the album Guitarcadia. Please let us more about it and about the experience of working with CJ Snare, from Firehouse.
Guitarcadia was a mixture of new tunes I had written, along with some re-invented songs from previous bands. I also put a couple of covers on there, to make it a little more relatable for those who don't dig the whole "instrumental guitar" thing. We did 8 instrumentals and 2 vocals. Most of the recording was done in my home studio, and then, CJ mixed it at his studio. He's just an awesome guy, and I'm so happy that we have been able to work together. He's doing my next release, too, which should be out by summer. We met on Facebook, actually. He had put something out there about looking for mixing projects, so I messaged him, and the rest is history, as they say. Can't say enough good things about him. He took my tracks and made them HUGE.
I read you are also involved in James Rivera's Sabbath Judas Sabbath. How's it working so far? Do you also have some other projects/bands at the moment?
Another class act... James Rivera. Amazing guy, fantastic vocalist, and unbelievable front man. We've done a few shows in the mid-atlantic region. We're working on some upcoming dates, and hopefully, we'll have some more to announce soon. It's a blast being able to go out there and play some great classic metal and have the fans just eat it up. There are some other things that James and I have talked about doing, but I can't really let the cat out of the bag, yet. My solo band is really keeping me pretty tied up at the moment, with working on the new record and touring.
What are your plans for the future?
Well, we have the new record, "Dancing Through Daggers" that we're working on writing and recording. We're playing in Altoona and Philly this week, then Pittsburgh and Baltimore the following week. More touring, including Rock Harvest II, Wolf Fest and Skull Fest, later this fall.
Thank you for this opportunity, do you have any final words for our readers?
Thank YOU for taking the time to interview me. I would just like to thank everyone for their support. Remember, if you like it, buy it! Also, do music because you love music, and for no other reason. Thanks.